Land Use

The Estate's land is now undergoing a transformation in land use to create commercial forest on around 20% of the Estate and protected open hill on the remainder. The open hill will be the focus of a biodiversity management programme which will include strict grazing control, a process which has already started and which is already paying dividends in terms of increased biodiversity.
Habitats
In 2013 an extensive environmental statement (ES) for Carrick Castle Estate was produced as part of Forestry Commission Scotland's approval process for the new planting programme. The survey identified that all of the habitats recorded On the estate are common in an upland fringe setting and all have been modified by the impact of long-term grazing. A breakdown of the vegetation types identified in the ES prior to tree planting is shown below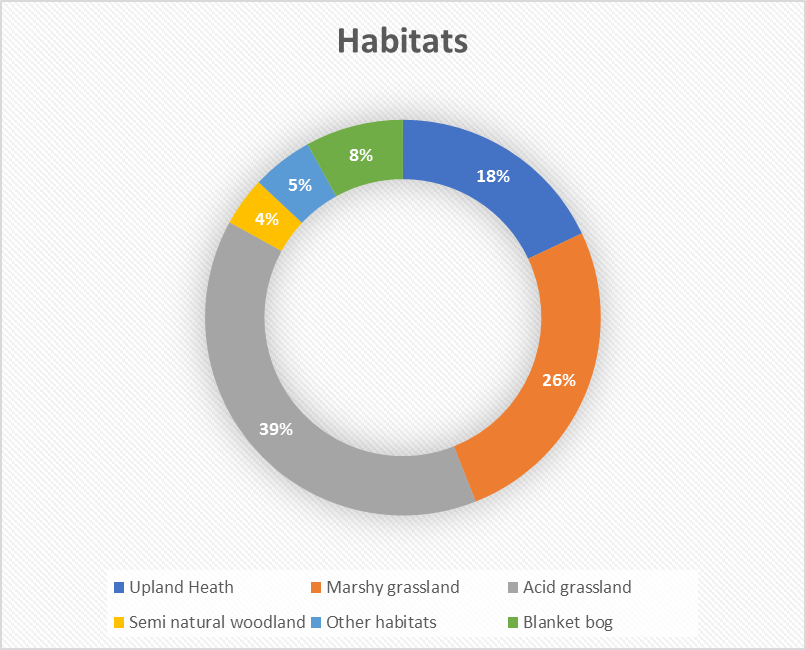 The dominant vegetation type is species-poor acid grassland, much of which has been derived from wet heath as a result of long-term grazing impacts. Upland heath is mainly composed of wet heath and is closely associated with, and grades into, blanket mire. Other vegetation types include semi-natural broad-leaf woodland, bracken and small areas of improved in-bye grassland. Acid grassland, wet grassland, upland heath and blanket bog are priority habitats within the UK Biodiversity Action Plan.
Wildlife – Birds
Extensive breeding bird surveys were carried out as part of the ES at Carrick but also on the recently acquired land on the Loch Eck side of the Estate. The original bird survey in 2011 identified 13 species but the recent survey identified 22 species which are listed in the table below.
As the results table shows, the Estate is lucky enough to host five red list species including golden eagles. The locations of the eagle's nesting sites are confidential but they can occasionally be seen soaring above the hill, looking for food below.
The Estate has authorised the Forestry Commission Scotland's local conservation manager to access the eagles from Estate land for the purposes of tagging them. The tagging programme is heavily regulated and controlled so that the birds do not suffer disturbance and the radio tags provide valuable data on the birds movements and behaviour.